Cash For Trucks
Cash for Scrap Truck Newcastle
Get Up To $5000 for your Unwanted Trucks in Newcastle!
Remember this name "Cash for Scrap Truck Newcastle". It's synonymous with smart and fast truck removal and recycling in Newcastle. Every time you think of- "what am I going to do with this big piece of rusted junk in my yard?" think of Scrap truck.
Cash for Junk Trucks Removal in Newcastle
Top Cash for your Old Trucks
And if you're worrying about how much it will cost you to dispose off your junk truck, think of the huge sum you can receive from cash for Junk truck Newcastle.
The highly professional team at Swift Car Removal will not only remove that unsightly mountain of junk from your property, but will also complete the paperwork for free, and will give you a very considerable cash for it.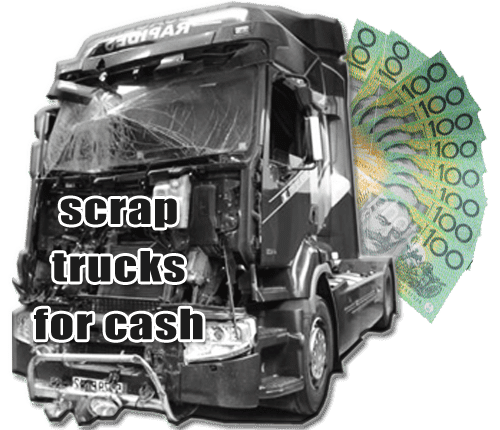 Why would a highly specialized team of authorized professionals drive all the way to the location of your choice to pick up your old/damaged truck, have it removed in a completely hassle-free way and still pay you a good sum of money for it?
Well, you can find the reason by giving a call at: 0422 601 575
to the team of Cash For Scrap Trucks Newcastle.
How much amount on the spot are we're talking about?
Well , the actual amount will always depend on the condition, model and age of your damaged, old, and unregistered truck, but this figure can definitely go up to$5000
You heard that right!! You could be up to $5000 richer within hours a simple phone call to our office.
Immediately talk to our dedicated team of experts on: 0422 601 575
and know more on how many dollars Cash for Junk Trucks Newcastle will actually pay for your old truck.
We will not only buy your old truck for a large sum of money regardless of its condition, model or rego situation. Swift car removal will drive its tow truck and other equipment at any place in Newcastle area to have your junk truck removed for free.
Cash for scrap truck has a team that knows its work and works on 24/7 basis.
Yes, that's FULLY correct. You have heard that right:
If you're a Newcastle resident and
If you've a damaged, old, unwanted scrap truck that needs immediately disposal
Whether the truck still has a legal rego or not
Cash for Junk Trucks Newcastle will definitely make the entire process as easy as 1 2 3and will also pay you up to $5000 for your old rusted truck.
Cash for old unwanted Trucks
Well, we can save you tons to TIME for a start. We have links with hundreds of registered wreckers that have millions of quality spare parts under their control. We can dismantle your trucks and sell spare parts at great rates. That's the reason why we pay top dollar to you for your junk trucks.
Cash for old Scrap Trucks is based in Newcastle and provided services for all types of Unwanted, Wrecked, Junk, Old, Smashed, Accident, Scrap & Junk Vans, Trucks, 4wds, Ute, bikes throughout Newcastle.
Truck Removal offer TOP cash for Scrap cars, trucks and vans, and specialize in old trucks, vans, ute removals & recycling.
It's now time to free up your valuable space and fill your pockets with Lot of Cash.
Call us at : 0422 601 575 for a FREE quote.
Truck removal process
Because for us our valued customers come first. We know fully well that it's very difficult to sell your junk truck on your own. It can be very costly and also unnecessarily stressful.
That's why cash for scrap truck Newcastle wants to help you in getting rid of your truck hassle-free.
We're also committed to responsible disposal of all wrecked vehicles and scrap trucks and will do everything to ensure that the process does not cause any harm to our beautiful environment.
So if you're looking for a competent and reputable cash for scrap truck company specialized in the quick removal of heavy vehicles like trucks, vans, utes, 4wds and bikes, look no further.
Immediately call now on: 0422 601 575
and get an FREE quote from our team. Happy with the quote? Once we have your details we'll arrange a fast pick up and removal of truck in Newcastle and the process will also pay you the agreed cash for scrap truck on the spot.
At Cash for Junk Trucks Newcastle, we're fully equipped, accredited, and highly experienced in handling:
All the necessary legal documentation required to dispose of your Junk/scrap truck,
Free towing services with a wheel and flatbed lift truck,
Responsible removal of your junk truck from your property or any collision location – we are are fully registered with the Australian Government's Environment Agency and are authorized End of Life Vehicle Centre.
Plus, with Cash for old Truck Newcastle you'll get the best possible quote in the market for your wrecked, unwanted, damaged or old truck. Regardless of your truck's condition, age, or make, Cash for junk Truck service will be there to pick up your old Trucks.
If your in Sydney visit: Cash For Scrap truck Sydney